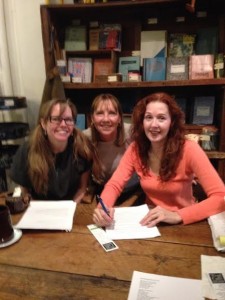 The first Word Café Salon on Thursday was a joy. When I started the series last fall, I invited a stellar lineup of 12 guest authors to read and talk about their work; we ended each class with a short writing session. My goal was to send everyone home with the rough beginnings of something they could continue to work on, but at every class, a few brave souls got up and read what they'd just written. These fresh and spontaneous pieces were great, and made me want to hear more.
So I decided to start and end this year's Word Café series with two "Salons," giving participants a chance to share more polished work with the group. I had no way of knowing how many people would sign up to read, or what they would bring to the table.
As soon as I entered outdated: an antique café, I smelled fresh-brewed coffee. Juliet Harrison greeted me with a warm hug, and at a corner table, I spotted Kathleen Griffin, Connie DeDona, and Sue Sparrow, three of the five members of an ongoing writers' group that started last fall at Word Café. They continued to meet through the winter, and all of them brought new work to share.
More Word Café regulars arrived, greeting me and our multitasking man-at-the-door, Craig Mawhirt. There were also some newcomers, several of whom signed up to read, along with a group of attentive listeners. Robert Burke Warren breezed in with a mike stand and kick-ass vintage amp he'd borrowed from BSP (many thanks!) And we were off.
Our first reader, Lisa St. John, is about to publish a book of poems with Finishing Line Press. (You can preorder a copy of Ponderings at Finishing Line Press.) She was followed by Connie DeDona, Kathleen Griffin, Christina Franke, Sue Sparrow, Robert Burke Warren, Elisabeth Henry, Juliet Harrison, Craig Mawhirt, and Darcy Smith. All ten readings were excellent, and so were the brief but lively discussions after each offering. We heard poetry, memoir, essay, fiction–a wonderful kick-off to our equally eclectic spring author series.
COMING NEXT!
On Saturday, 3/28 at 6pm, I'm hosting a panel discussion called "Writers Teach Writing" with an all-star lineup from Word Cafe's opening season. Join me, SARI BOTTON, LAURA SHAINE CUNNINGHAM, ALISON GAYLIN, AMITAVA KUMAR, JANA MARTIN, GREG OLEAR, ABIGAIL THOMAS, and MARK WUNDERLICH at the Woodstock Library for this special event. Admission is free, so bring friends!
Then it's back to outdated for Thursday author events throughout April and May. Classes start at 6:30; admission is $15/class, or $125 for the full series, including the final Salon on 6/25.
My first guest on April 2 is nonfiction writer extraordinaire MARILYN JOHNSON, who's profiled archaeologists in Lives in Ruins, librarians in This Book Is Overdue, and obituary writers in The Dead Beat. Join us for "Digging Deep: A Writer's Curiosity," and check out the rest of spring's offerings at wordcafe.us. I'll be posting these write-ups, photos, and announcements on the Event Archive page every week.
See you soon, and keep writing,
Nina