April 30, 2015
My guest this week was the astonishing Porochista Khakpour. After she read several excerpts from her visionary novel The Last Illusion, we sold every copy on the table, and several people ordered more books from The Golden Notebook (so can you!)
The Last Illusion
is inspired by a story from the medieval Persian epic
The Shahnameh
, about an albino boy whose royal parents abandon him at birth; adopted and raised by a mythical bird, he becomes a great hero. Porochista's Zal is born to a mad widow who keeps "White Demon" in a cage alongside the birds she considers her true children. Rescued by a specialist in feral children, Zal grows up in New York, where he crosses paths with a flamboyant illusionist who wants to make the World Trade Center disappear. (As a child whose family had emigrated from war-torn Iran, Porochista was panicked by David Copperfield's disappearing Statue of Liberty illusion on TV.)
She explained that while Magical Realism usually refers specifically to Latin American literature, Fabulism is a more inclusive term for fiction that combines a magical or surreal conceit with emotional realism.
The first reading Porochista often assigns to her students, at Bard College and elsewhere, is Jorge Luis Borges' "The Aleph." along with a Tim O'Brien essay about it.
This helps to combat what she calls "the Wikipedia school of writing," urging young writers to look beyond the mundane. "We're all in our individual consciousness, isolated by these weird vessels, our minds. There is no normal," she said. "The things we dream, that's surreal. We die. That's surreal. The extraordinary strangeness of life should be quite germane to us."
Nina mentioned some fabulist stories she's taught by Steven Millhauser ("Flying Carpets") and Karen Russell ("St. Lucy's School for Girls Raised by Wolves"), and Porochista added more names from what she calls "Team Sorceress": Kelly Link, Aimee Bender, Laura van den Berg, Leonora Carrington.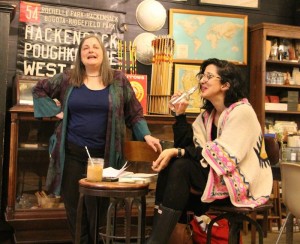 POROCHISTA'S EXERCISE:
Choose a sentence from something you've written (or invent a new one) that could be the ending to a piece. Now work backwards to the beginning, listing six major events or plot points.
NINA'S EXERCISE:
Write an encounter between two characters that begins in the real world, on earth, and moves into a different element: air, water, fire. See where it leads you.
The minutes-old work people shared in class was amazing. Writers, try these at home! And come to outdated: an antique café on Thursday, 5/7 at 6:30, when the brilliant novelist Pamela Erens (The Virgins, The Understory) joins me to talk about "The Storyteller's I."