May 7, 2015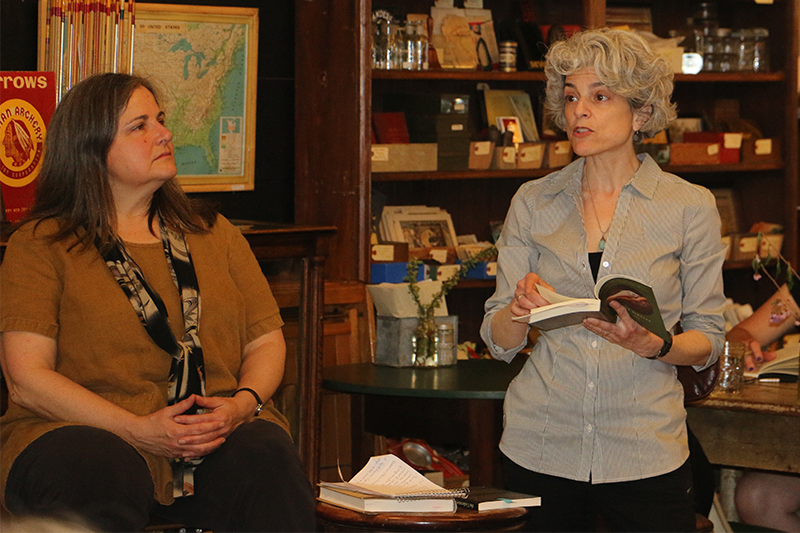 Novelist Pamela Erens treated us to a reading of the opening of her brilliant novel The Virgins. Its narrator Bruce Bennett-Jones, a student at an elite 1970s prep school. Obsessed with the romance of fellow students Aviva Rossner and Seung Jung, Bruce not only describes his own encounters with these two outsiders (Jewish and Korean-American) but imagines what might have happened between them in sophisticated literary detail.
Pamela's reading sparked a lively discussion on narrative voice, and the differences between first and third person. Nina observed that in cinematic terms, third person is a long shot or even an aerial view, where first person is a point-of-view shot, often a close-up. She also paraphrased Valerie Martin's dictum that first person works especially well when someone is trying to justify their behavior.
The Virgins is narrated in first person by someone who uses third person to narrate scenes that he couldn't have been privy to–Bruce is recreating the story of Seung and Aviva, for reasons that become evident as the story unfolds. This unusual narrative strategy was inspired by James Salter; Pamela named an English teacher at her fictional school after him in homage.
Her first novel, The Understory, also has a first-person male narrator, whose view of himself and the story's events is extremely limited. She finds writing male narrators "very freeing. I felt less exposed because I knew they weren't me."
One of Pamela's writing teachers assigned her to write prose in the style of various famous writers, including John Cheever and Eudora Welty. She found it a very useful way to analyze diction and prose rhythms, and took comfort in realizing that even when her classmates were imitating someone with a distinctive style, they still sounded like themselves.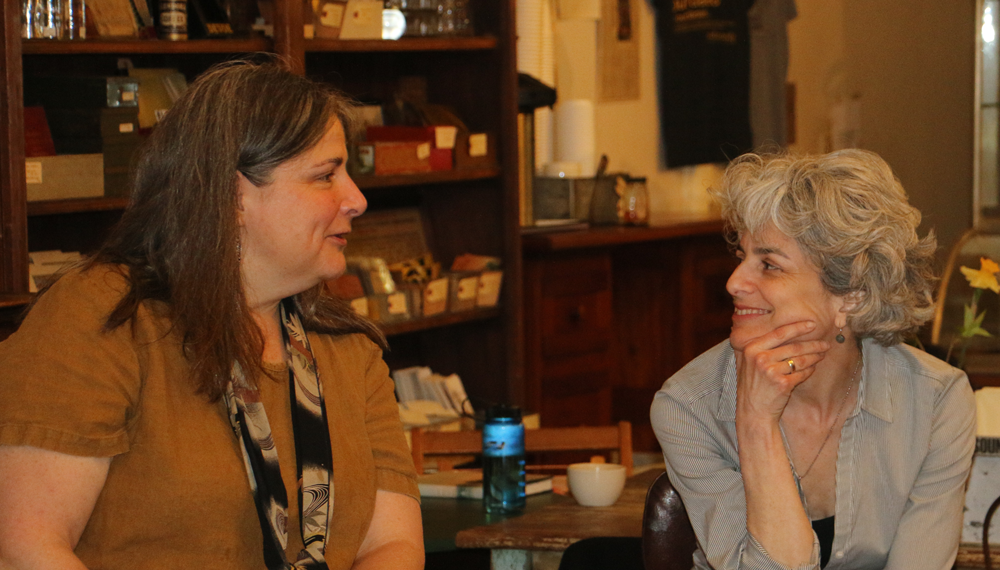 There were some excellent questions from the group, including a discussion of writing first-person narration from the point of view of someone who wouldn't have a sophisticated literary vocabulary, for instance a teenager. Pamela's advice? "Don't worry about it. The voice of a story is never identical to the voice of a character. It's a translation of what that character is thinking and feeling. Prose that's written as we really talk is not that interesting most of the time. Readers will always go with you if give more richness to the language."
PAMELA'S EXERCISE:
1) List 4-6 basic attributes (gender, height, personality, etc) that are true of yourself.
2) Write a new list with the OPPOSITE of those attributes.
3) Choose an autobiographical event or situation you've wanted to write about and narrate it as this opposite persona.
NINA'S EXERCISE:
Think of a recent encounter you had with another person (buying shoes, arguing with a sibling, spotting someone on a train platform) and write it from the other person's point of view.