WORD CAFE EVENT ARCHIVE
MARY LOUISE WILSON, 10/29/15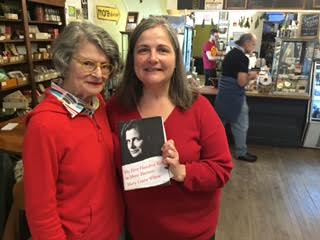 The divine Mary Louise Wilson treated us to a spectacular reading from her new memoir My First Hundred Years in Show Business. Our topic was "Getting in Character," and the chapter she read about her Barrow Street neighbor, friend, and gadfly George Furth were a brilliant demonstration of how well-chosen details can paint the whole picture. Who can forget him shampooing his hairpiece and donning a towel and golf cap while it dried, or barging in on Mary Louise and her new beau "with a canned pear floating in a green plaid dish. 'I thought you might want this,' he barked, giving my boyfriend the once-over."
Mary Louise is the subject of Ron Nyswaner's Woodstock Film Festival Audience Prize-winning documentary about character acting, She's the Best Thing In It, which follows her into a classroom full of beginning actors at Tulane University. We talked about parallels between teaching acting and writing: truth, specifics, connection.
Mary Louise talked about finding a natural voice for the memoir through the stories she's told at parties for years; reading aloud as she wrote also helped. When she writes other characters, in memoir, plays and monologues, "It's always the language." How does this character speak? She also talked about finding the physical quirks of a character she plays onstage, or creates as a writer.
When I asked if anyone had questions for Mary Louise, the first response was, "Will you read more?" She did, treating us to a chapter called Fuschia Moon, about her "introduction to camp" in the company of her closeted brother Hugh, his witty circle of friends, and their living room "drag chest."
THE EXERCISES:
Mary Louise suggested a daily practice called "aide-memoir," in which you write continuously, whatever comes into your mind, without editing or censoring your thoughts. Nina compared this process to letting the rust out of the pipes till the water runs clear. See where it leads you. You might be surprised.
Nina's exercise: Think of a person who drives you crazy, for good or bad reasons. How does he or she speak, move, behave? Write a monologue in that person's voice that begins with the line, "Is this seat taken?" The work people got up and shared was specific, sharp, and hilarious. Takeaway: Irritating people make good characters.